First a few before and after shots:
Behind shed BEFORE
Behind shed AFTER
Side yard BEFORE
Side yard AFTER
Raised bed BEFORE
Raised bed AFTER
Southwest corner BEFORE
Southwest corner AFTER
Front yard BEFORE
Front yard AFTER
So we are slowly making progress.
While cleaning up the Bird of Paradise in the southwest corner, I turned up this bloom.
I also uncovered this scat on the deadpile currently in front of my shed.
You know, I'm always fascinated with animal scat, and trying to determine what left it behind. Since I have a privacy fence out back, I have to wonder what's getting in my yard at night, and possibly lives in my yard under the shed.
This swing is a new addition to the yard.
It was given to me by Mom's neighbor. We have it in a shady spot that faces the west, so we can sit out here and watch the sunset.
And Woodrow bought me a wheelbarrow for the yard work.
He got sick of hauling stuff out to the road for me using the little dinky cart that was given to me by my mother. :)
I also discovered these supports that were installed on the fence to support the bougainvilleas that grow against the fenceline.
My passion vine is blooming like crazy. Every day it throws up a new bloom.
And it is supporting a new Gulf Frittilary caterpillar that is growing like gangbusters.
I swear every couple of days I go out to find it substantially bigger than a few days before.
My mango continues to grow:
However the mango tree has dropped a lot of it's smaller fruit. But it does have a lot of new blooms and small fruits coming in. So I'm hoping that the fruit loss is normal.
The tomatoes look good. One is almost ready to harvest, and there is one other small one coming in.
However my eggplant is infested with aphids..
...and some have spread to the pepper plant.
My jasmine is beginning to bloom. Yeah!
And I'm trying to figure out the deal with the cauliflower. This cauliflower was planted a few months ago from a tray of cauliflower bought at Lowe's. Both the cauliflower on the left and right came from the same batch, had the same soil and by all appearances the same conditions. They sit right next to one another.
Yet one is obviously thriving while the other isn't. All I can figure is that the one on the left gets slightly less sun than the one on the right, and it likes it.
You see this guy?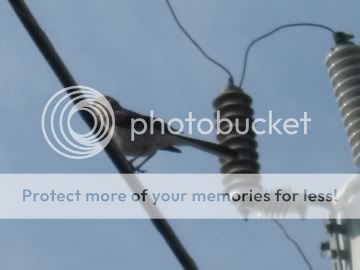 This guy LOVES to chatter and sing! He actually seems to seek out people. He will land near me overhead, and sing like crazy, and sometimes mimic the whistles of me and Woodrow. I think that this might be the same guy who sings up a storm in the middle of the night. Woodrow often hears him between midnight and 2 AM. I even got audio of him recently, but the file is too large for Photobucket, so I have to find a different way to post.
The greatest miracle of all? I finally discovered the Guava tree!
The notes for the house mentioned a guava, but I could never find it. I finally discovered it, hidden away behind the wild bougainvillea next to the shed.
Now I just have to figure out how to move that bougie, so I can free the guava from its grasp!
So that's where we stand at this point. TONS of work to do yet, but it is slowly coming together.