First let me mention that I wrote an article about
Florida Friendly Yards
on my
Freedom Gardening
blog. It is about the nine principles to having an environmentally friendly yard.
One of the things that is currently occupying my thoughts are a few trees that are in my yard that are not "storm wise". Storm Wise trees have a reputation for being able to withstand winds, as we can often encounter in Florida. I have several trees that are known for blowing over in winds.
My biggest concern is my ficus (Ficus benjamina) aka "Weeping Fig".
It is said about this tree:
One of the most damaging trees in southern Florida. Dense canopies act like sails in high winds and pull the large trees over, exposing large root balls and doing extensive damage to sidewalks, roads, fences, structures and utilities. Invasive exotic.
I love the look of this tree, but it has an extensive root structure, and many of the roots are close to the surface and not deep.
This means that they can stretch out 15 or 20 feet and break any foundations or concrete slabs that they meet, or can create a tripping hazard. Add to that the fact that the dense canopy makes it a wind hazard, the heavy maintenance requiring continual pruning to control it's growth, and the caterpillars that love the ficus and then proceed to make cocoons all over the side of my home.
I hate to lose the shade that the ficus lends the lanai, and the birds LOVE the ficus, but I am thinking that maybe it needs to go. I am considering cutting down the ficus and leaving a stump a couple of feet tall. Perhaps attaching a saucer to the top of it as a bird feeder or bird bath, and maybe attaching bromeliads to it or something. Then I could plant a different tree near the stump, which in a few years could lend the same shade to the porch that the ficus currently does.
Another concern is what I think might be Shady Lady Olive trees.
I don't know whether or not these are Shady Lady, and if so I don't know whether or not they are like Black Olives. Black Olives often break apart in moderate to high winds. So do I leave them up, or take them down?
Then there are the two Mahogany trees. I think that one definitely needs to come down, as it appears unhealthy and is too close to the shed.
The other one I haven't decided on yet.
It isn't currently causing any trouble. But it is located close to my large mango.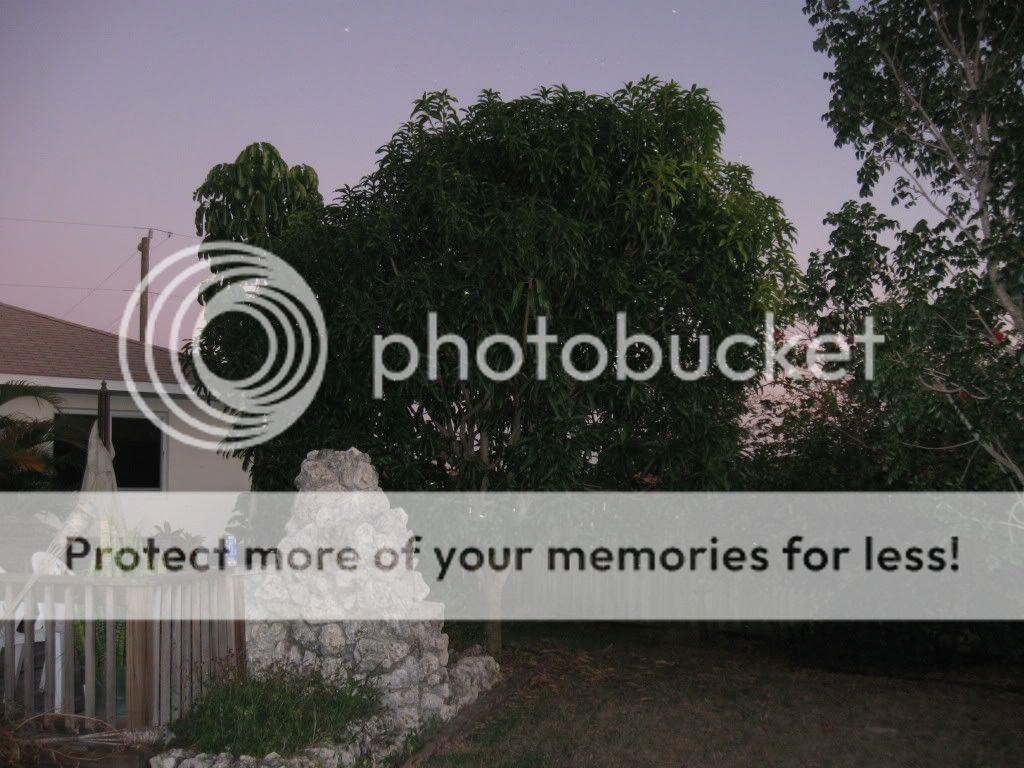 I don't have a large yard and worry about making it too shady to grow too many other plants. Plus it is not known for being very wind-resistant.
I have other trees that aren't very wind-resistant. My mango and loquat are both sensitive to wind damage. Some other trees that are on the "concern" list for wind-resistance:
Australian Pine

Yellow Tabebuia

Norfolk Island Pine

Black Olive

Queen Palm

Carrotwood

Royal Poinciana

Silk Oak

Java Plum

Hong Kong Orchid

Jacaranda

Earleaf Acacia

Eucalyptus

Javanese Bishopwood

Washington Fan Palm

Now for some good choices for trees known to have medium to high wind resistance:
Paurotis Palm

Florida Thatch Palm

Coconut Palm

Cypress

Live Oak

Gumbo Limbo

Sea Grape

Strangler Fig

Cocoplum

Mastic

Cabbage Palm

Dahoon Holly

Pond Apple

Black Ironwood

Stoppers spp.

Buttonwood

Red Bay

Royal Palm

Jamaican Caper

Paradise Tree

Wild Tamarind

Fiddlewood

Geiger Tree

Wax Myrtle

There's a good book called
Stormscaping
that can help you determine what you want to do if you are hoping to "stormscape" your yard.
I have lots of thinking to do...